First, we finished The Desk. We are still in need of a chair. Ikea's having a sale. Maybe we'll find one there.


Before:

After:

Then Groucho Marx came to visit: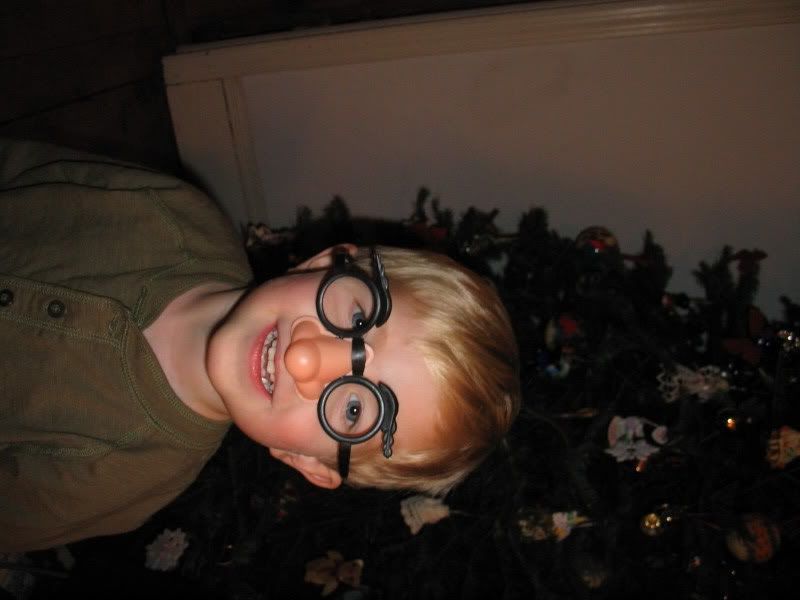 The kids let me get a shot of them in their Christmas pj's. Sophie's holding the Hannah Montana doll. It sings.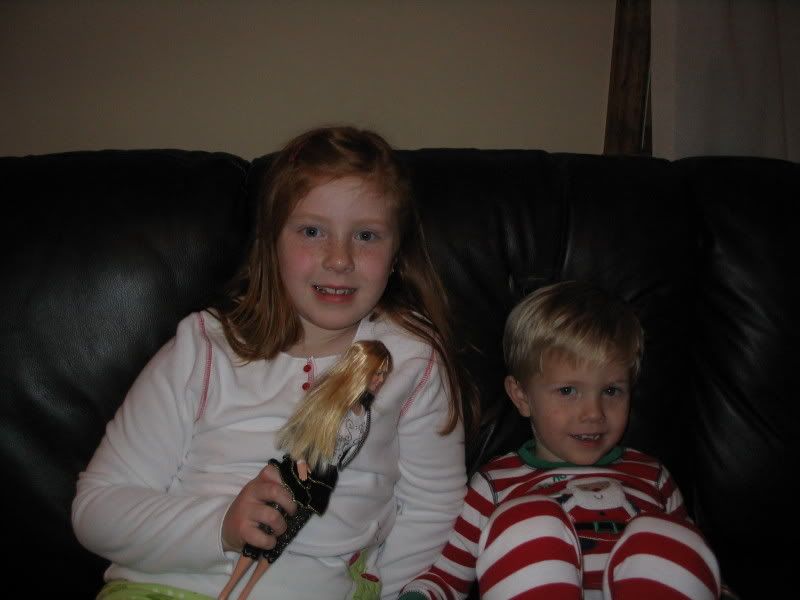 Once again, Santa got a plate of Nana Laurie's cookies and a nice glass of milk.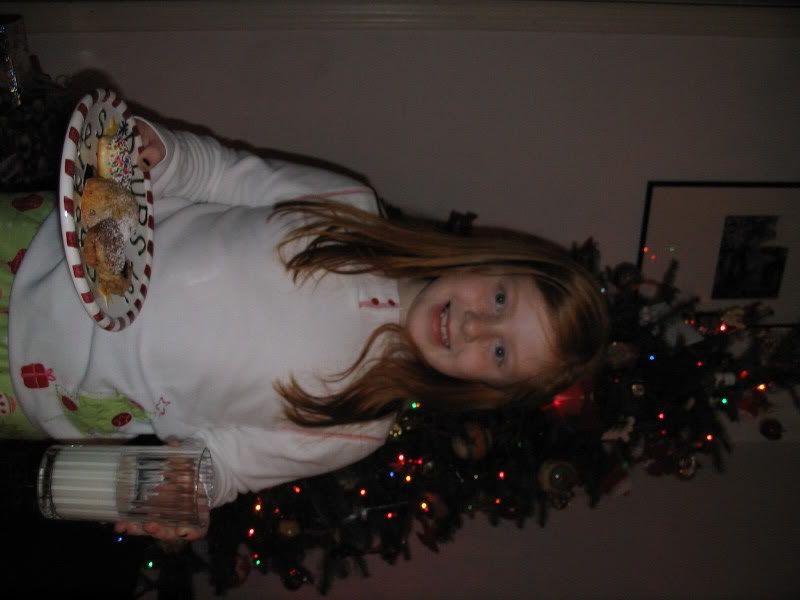 After opening presents and eating breakfast, we went to church where we celebrated the birth of baby Jesus with Barbie The Island Princess, one of the other dolls that sing. Sophie is standing front of the church's 25 foot tall tree.


Flash forward to New Year's Eve....this is Dr. Harry, happy that he successfully performed a funny-bone-ectomy:


Then I made the Zebra Cake. First I dissolved one teaspoon unflavored gelatin in 2 tablespoons of hot water. I let it cool a little bit while I whipped 2 cups heavy cream with 1/2 cup sugar and 1 teaspoon vanilla. Once the gelatin was cool enough I added it to the cream/sugar/vanilla. This allows the whipped cream to hold it's shape.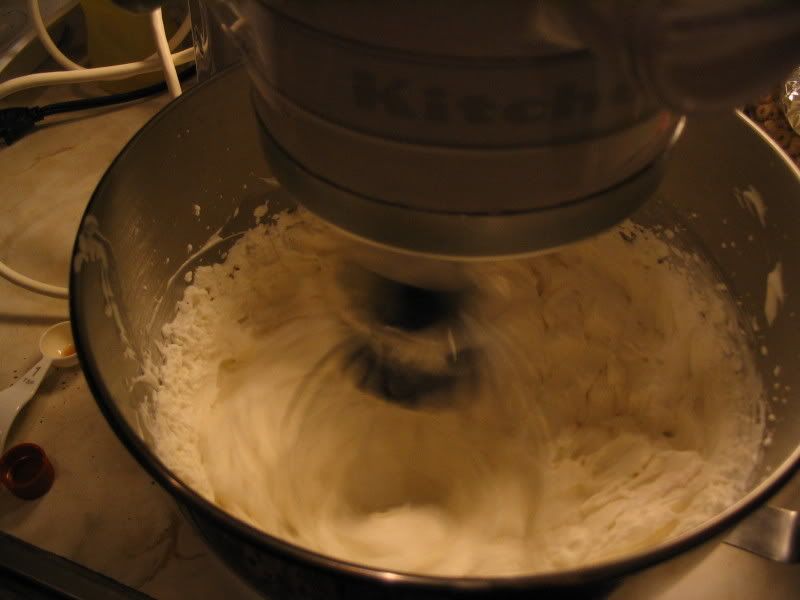 Once the cream was ready, I started spreading it between Nabisco's Famous Chocolate Wafers and lining them up like so:


I kept going until I didn't feel like it anymore: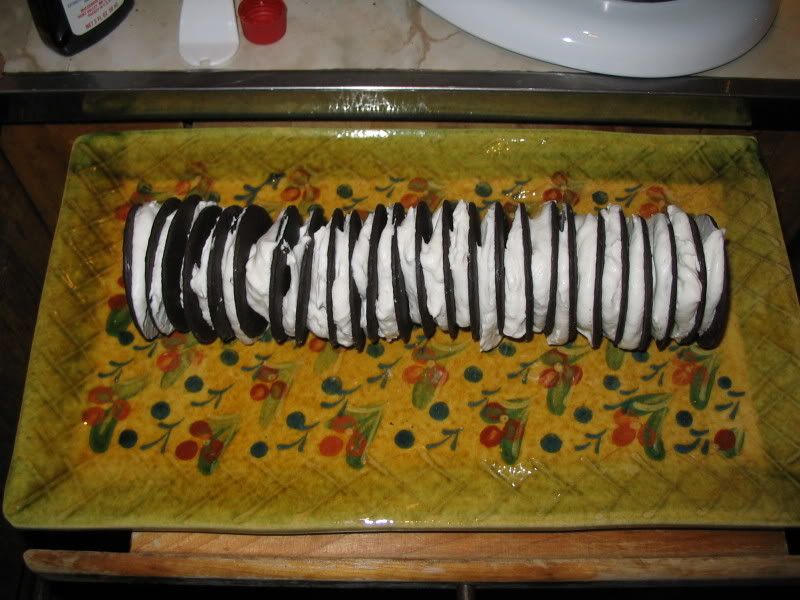 Then I covered the whole thing in the remaining whipped cream:
I refrigerated it for a couple of hours and then sliced it on the diagonal and served. Sophie was disappointed we didn't use our fine china.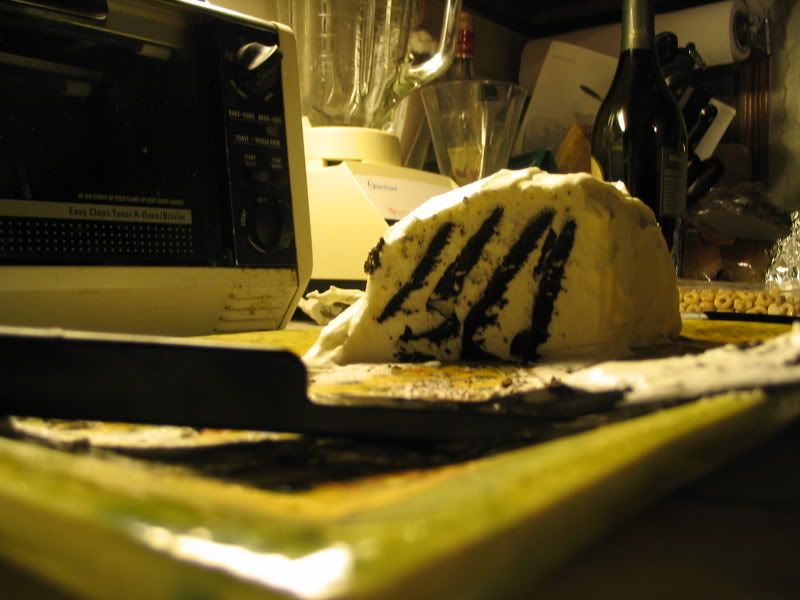 I don't have pictures of us eating the cake but it was delicious. The cream softens the wafers a little bit and makes it easier to cut. Next time I will make it earlier in the day and give the cookies more time to soften. I can also think of lots of variations for this recipe, including, but not limited to, adding chocolate to the whipped cream.

Today the family is going to just relax. Harry is currently watching WPIX's broadcast of the Yule log and listening to Bing Crosby. I plan on watching Holiday Affair on the free on-demand channel and maybe Miracle on 34th Street or It's a Wonderful Life.

'08 is already off to a great start.