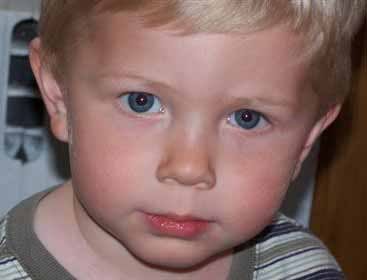 Dear Harry,
You have been in our baby boy for three years now but I can barely remember a time when you weren't a part of this family. Now you are three. THREE! I can hardly believe it.
This past year has been a tough one as you prove to us that it is called the terrible two's for a reason. There have been meltdowns, tantrums and weeks spent crying and whining over things that we deem inconsequential but which tears your world apart. There have been the dreaded "night terrors," which have ripped me from bed and startled me so much I honestly wondered if I would have a heart attack while comforting you.
But it hasn't been all bad. We've actually had a lot of fun this year. There were visits to zoos, aquariums, movies, parties and Coney Island. This past summer you experienced toasted marshmallows for the first time and I think you ate your weight in chocolate. We took you and your sister hiking and you seemed to really enjoy it. Probably because it keeps you in constant motion. You always manage to do something pretty darned cute when we go to church and the kids are called to the altar for the children's sermon. I am secretly terrified you will knock over the candles and burn the place down but for the most part you walk up there and listen. There have been lots of outings, including a visit to a county fair where you weren't interested in learning about the animals in the barns but you sure did want to show them your matchbox cars. You forged a special place in your grandpa's heart by loving trains with every fiber of your being and so Grandpa and I hauled you to Scranton, PA to ride a working steam locomotive. It is something you still talk about and I wouldn't be surprised if you came home from Dartmouth one day to announce your plan to ditch your business degree and become a railroad engineer.
As you assert your independence and explore this crazy world, there have been times I've wished that you could just sit still for five, no, three minutes. Or stop talking to me about trains. Or cars. Or trains. Napping without a fever or a long car ride would be good, too. I'd like to make dressing you less of a contact sport. But you are a boy, and these are the things boys do, even if it is exhausting, and I wouldn't have you any other way.
Lately, you have preferred your father to anyone else in this world, and if I can be honest, that sometimes that makes me jealous. I understand, though. At least I think I do. I'm the one that's always there, night after night, making sure you've eaten and have been bathed and read to and kissed goodnight. I'm more constant. I'm not coming down on your dad; he just has to work later than I do and that's OK. But when dad comes home....well, it's DAD! the guy who wrestles with you and builds train tracks and helps you build lego bridges for the train tracks. We are lucky we are so complete as a family.
Earlier this week, when I'd had a particularly bad day at work, you looked at me and insisted on giving me an extra kiss and hug when I picked you up at the end of the day. It was sorely needed and instantly made me feel better. I think you might have been telling me "Hey, mom! I love you, no matter what."
Well, son. I love you, too. No matter what. Happy, happy birthday.