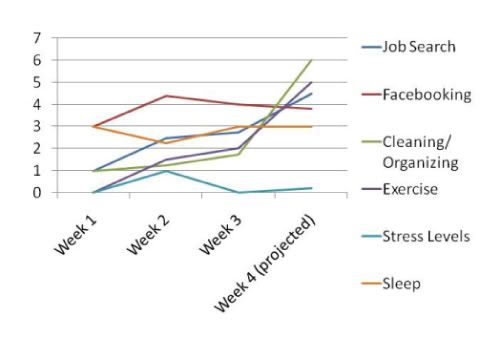 Today I helped Sophie work some more on the Project Bald Eagle for school. She insisted on including a graph to illustrate the decline of the bald eagle population in the in continental United States.
Although I used Excel and Word extensively in my previous working life, I never had to do a graph for work. Graphs were for other departments, for account executives who spent a lot of time with clients and presented things to them. Me? I used Excel for basic job accounting (also, it is handy for knitting if you want to create your own patterns).
So I sat this morning figuring out graphs of the bar or line variety only. Not pie charts and certainly not donut charts. Project Bald Eagle now has a spiffy new bar graph to show their precipitous decline between the mid 1800's and 1967. You have DDT to thank for that, as well as loss of habitat, human encroachment and trapping and shooting.
Anyway. Once I figured it out, I made another graph, showing how I've been spending my time during the precipitous decline in work.
Surprisingly, stress levels are at an all time low. Go figure!

Facebook was eating up a lot of time, but appears to be on the decline. Reasons for this are unknown, except it could be because of the new layout.

Cleaning and organizing is an area that is increasing and is projected to continue doing so into next week, although I make no guarantees. However I did get Sophie to go through the dress up box AND the Barbie box this afternoon. One bag of broken crowns and ratty one-eyed dolls are gone.

Sleep and exercise have increased as well. I think there may be a correlation there because lately my best nights are those when I've taken a bike ride. I lie down even though I feel like I have energy in spades but fall asleep quickly and sleep soundly (well, soundly until I have one of Harry's patented wake up calls). This exercise thing is also projected to increase since the weather the rest of this week is supposed to be gorgeous (why, hello, Spring! What took you so long?).
Tomorrow, on
ce I get some of that pesky job search stuff out of the way (also on the rise), I'll be taking a nice long bike ride, with my camera. Results to be posted here.