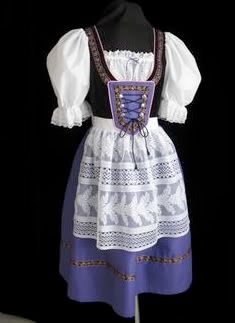 The one above, to be exact.
I plan on wearing it to an Oktoberfest that I am helping organize.
Then I will wear it for Halloween.
Who knew ethnic costumes like this could cost so much? Real, honest to goodness authentic dirndl dresses can run you several hundred dollars. I bought this one on ebay. The other vintage, authentic, imported dirndls were getting as pricey as the new ones but this knockoff did not cost nearly as much and I will use some credit card points to offset the price, making it much more affordable.
John refuses to wear lederhosen. That's too bad because we'd have looked cute together when we took the kids trick or treating.