Valentine's day is just around the corner and since it was quiet in the office today I decided to cut out a little early and get some V-Day shopping done.

I usually buy John chocolates for Valentine's Day. It is the perfect valentine, in my opinion, and when I worked in the theater district I'd pop over to Rockefeller Center buy his chocolates from
La Maison du Chocolat
. Their chocolates are flown in from France every day and boy are their arms tired. But seriously? Their most basic box costs about $15 and is worth every penny. No, you don't get many but in this case it's all about the quality, not the quantity.

I no longer work in the theater district, so this year I went to
Jacques Torres Chocolates
and bought my sweeties their sweets. The kids are each getting one of these, in milk chocolate:
I bought John a boxed assortment, sort of like this, about half the size: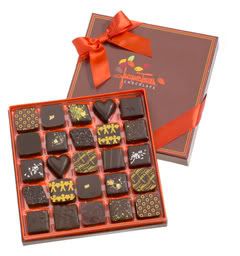 These little morsels are filled with all sorts of healthy things like fruits and nuts and red wine.
We'll be visiting my dad and step-mom on Saturday so we can meet their new puppy. I decided to bring them some chocolates since they're sweeties, too. Their chocolates have ginger, almonds and pistachios: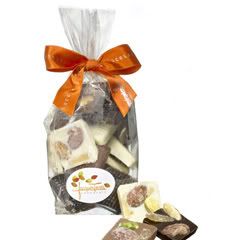 Although I regret it now, I resisted buying a tin of their hot chocolate mix.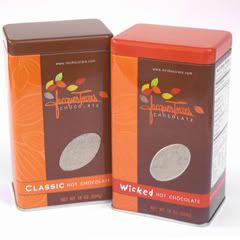 Chocolate nib shavings that you melt in hot milk. Yes, I regret it. I deeply, deeply regret not buying that now.
I hope your Valentine's Day is filled with chocolate and love.