Over the weekend, and especially on Monday as snow quietly fell, I was all into winter and loving the coziness of a long weekend with the kids. Oh, it was lovely.
Today? Not so much.
The feeling of being encumbered by multiple layers of clothing is wearing on me. Yesterday was the worst and I ended up wearing three layers at the office: a long sleeved t-shirt, a turtleneck sweater and then a mock turtle neck zipper cardigan. Then the boots, and the gloves and the hats. My pants are too tight because apparently I've never met a Christmas cookie I didn't like and they've all caught up to me. Along with the wine and the pasta and the homemade bread which has become a staple in our house.
When I get this way--which is to say feeling frumpy and uncomfortable and winter weary, I look to make a change. Starting at the top. Which would be my hair. My hair, which is showing more and more gray these days and needs a cut. Here is the planned cut, the new 'do, as shown on
Samantha Brown
, She Of The Adorable Bob: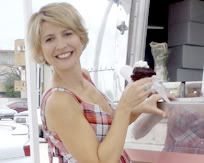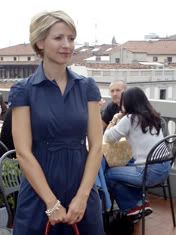 Hopefully a high paying job, international travel and thin thighs are included!