All six of you are probably wondering what happened to me after Tuesday on our vacation.
Wednesday was The Hot Day and so we made it a pool day. All day. For six straight hours we swam and soaked and waded. Usually, the weather in the Poconos is cooler than our native NYC but not Wednesday. It was too hot to take a lot of pictures but here's one of Sophie's feet. Proof that she can now do an underwater handstand.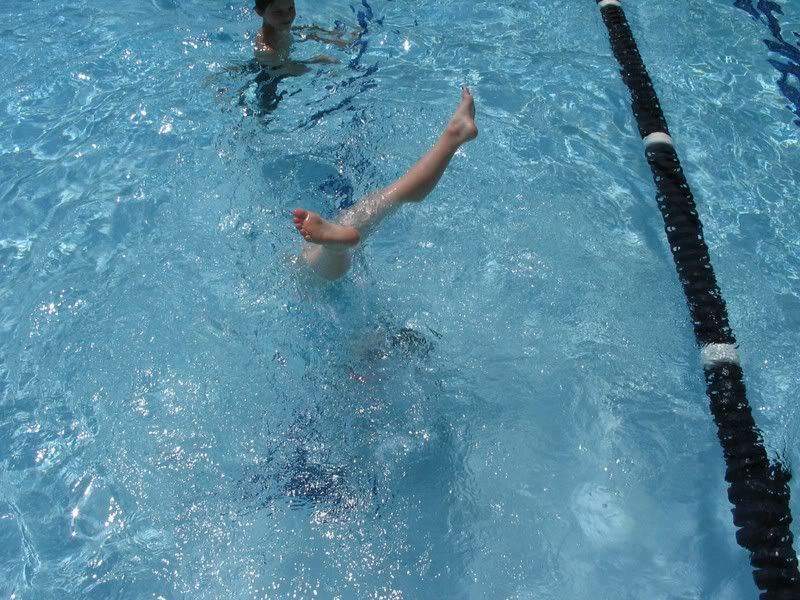 We woke on Thursday to a glorious morning. We went out for breakfast, then met up with my Dad back at the homestead. From there we headed out to the Wayne County Fair.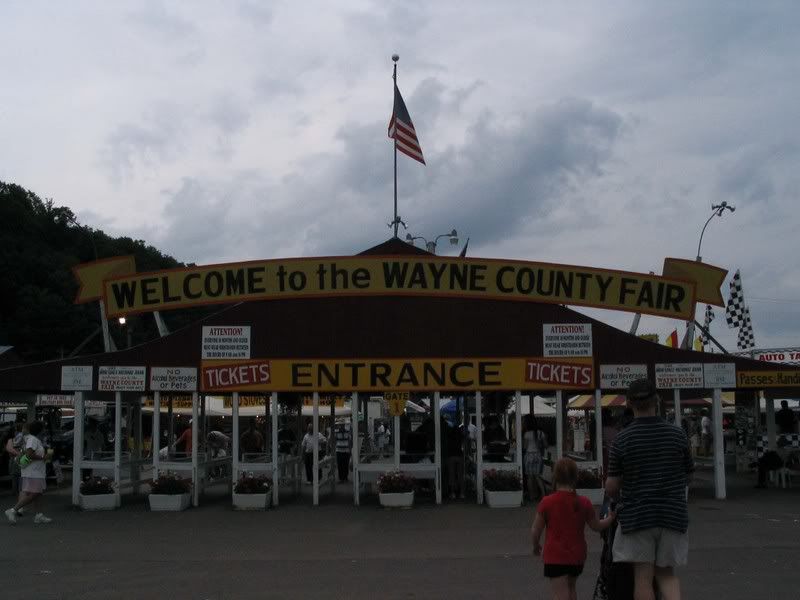 Women with mullets! Fried Twinkies! 12 pound zucchinis! Tractor pulls! Pig racing! Blue ribbons! Beef Jerky stands!
And this kid, who was all too happy to pose for a picture. He also serenaded the women at the concession stands and made one of them blush, without being suggestive or using foul language. The kid is
gifted
.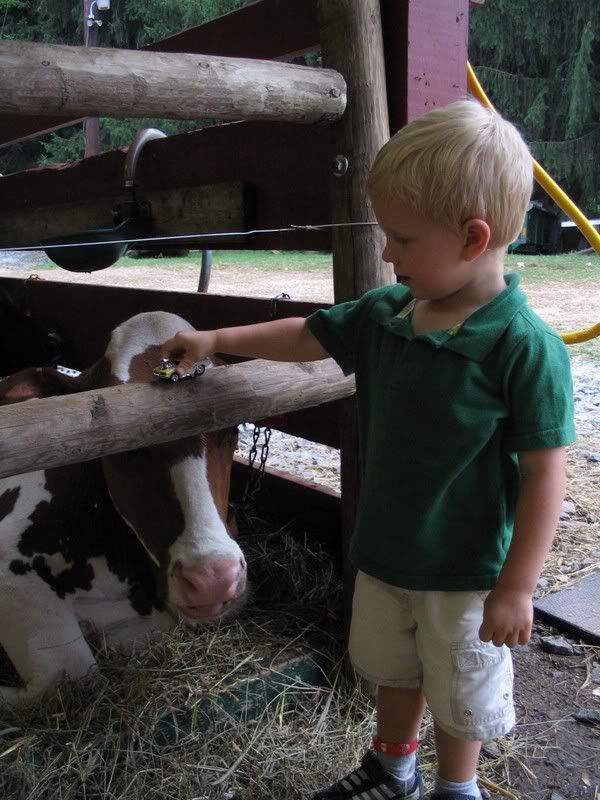 This cow could care less about Harry's car, but that didn't stop him from showing it to her.

One of the attractions in the fair is fawn petting. There's a large pen where for $3 a head, you can go inside, step on all the deer shit you ever thought imaginable and pet baby deer. You can feed the deer a bottle for an additional $1.
This year they also had two piglets and a basket of beagle puppies.
The woman who runs the stand is a drill sargent. Every child must be looked after. Every person must wash their hands after the petting session, whether you touched an animal or not. You must leave with your child (apparently, this has been a problem in the past). Photos are not allowed unless you pay her $5 to use your own camera. I was too cheap to pony up the cash and instead will describe to you the scene inside the pen:
Sophie found a beagle which promptly fell asleep in her lap. She let it lie there while her brother ran around chasing the deer and the piglets, trying to kiss them. Sophie put the puppy down and tried to hold another but Sleeping Puppy kept tugging at her heartstrings, and she kept going back to her, holding her, petting her, kissing her. Crying great, big fat tears of sorrow when I told her we could not have a puppy. "But pleeeeeeeaaaaassseee! She loves me! I'll take care of her! I promise! Why don't you ever give me what I want? But I looooovvvve her!" (Note to the grandparents: DO NOT, under any circumstance offer to buy her a puppy!)
Friday, it rained poured. We watched a lot of movies and the kids got on each other's nerves (which means they got on my nerves). I said the following with alarming frequency: "If you two don't knock it off, we're going home RIGHT NOW!"

Saturday, I wondered if we'd get any more sun an then it BAM, the sun started shining. While standing on the tiny porch, I noticed three deer bedded down across the road, just laying around, enjoying the morning. We were able to get pretty close to them for a photo op:

Next we headed out to Highpoint State Park, which boasts being the highest point in the state of NJ. $10 a car gets you in the park ($5 weekdays). We thought the only thing to do there was see the monument at the top and so we thought $2.50 a person was pretty reasonable.

But that's the great thing about Highpoint State Park. There's much more to do than just see the monument. There's hiking, picnic areas, lake swimming, fishing. Part of the Appalachian Trail runs through here. We knew none of this before we went there so next time we are making a day of it: morning hike, picnic lunch, view from the top, a little swimming and time at the playgrounds (but Sophie keeps telling us SHE DOES NOT LIKE HIKING and wants everyone to know that).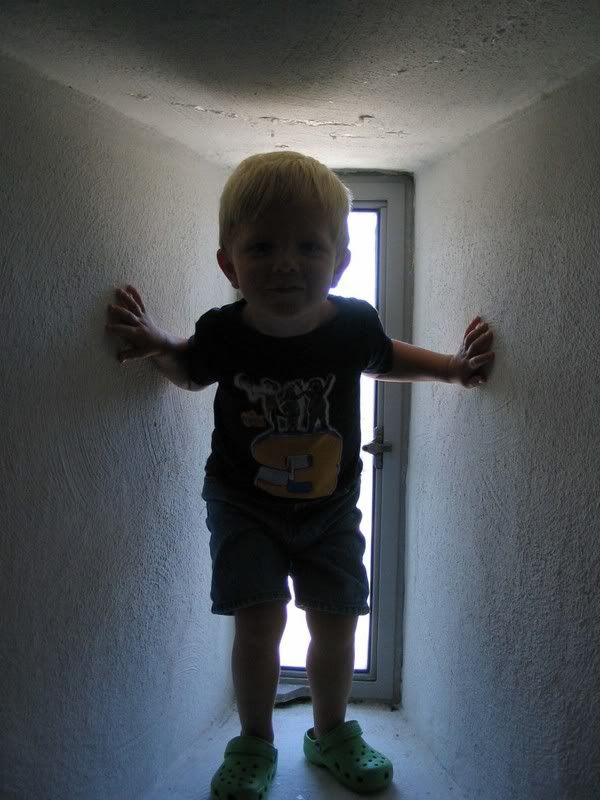 Here's a view looking down from about 1/3 of the way up. The concrete you see is not ground level.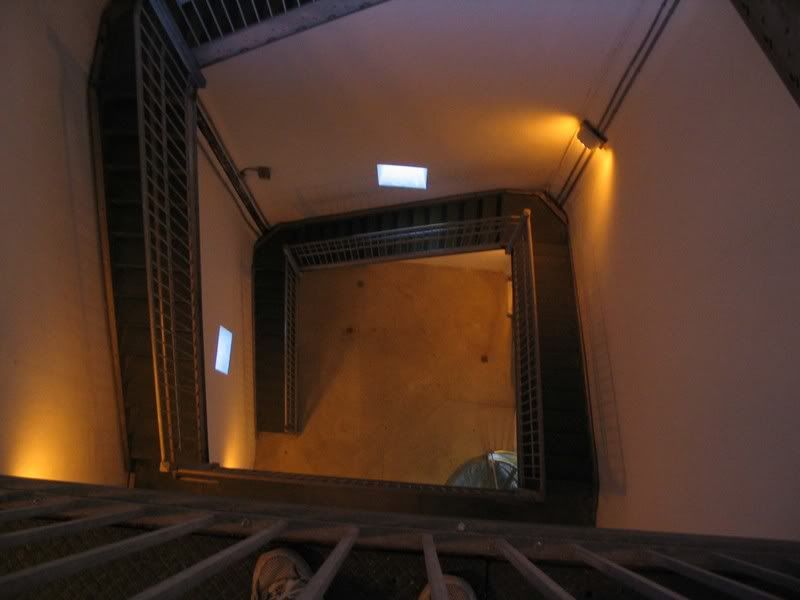 Almost at the top! (Notice the boys lagging behind?)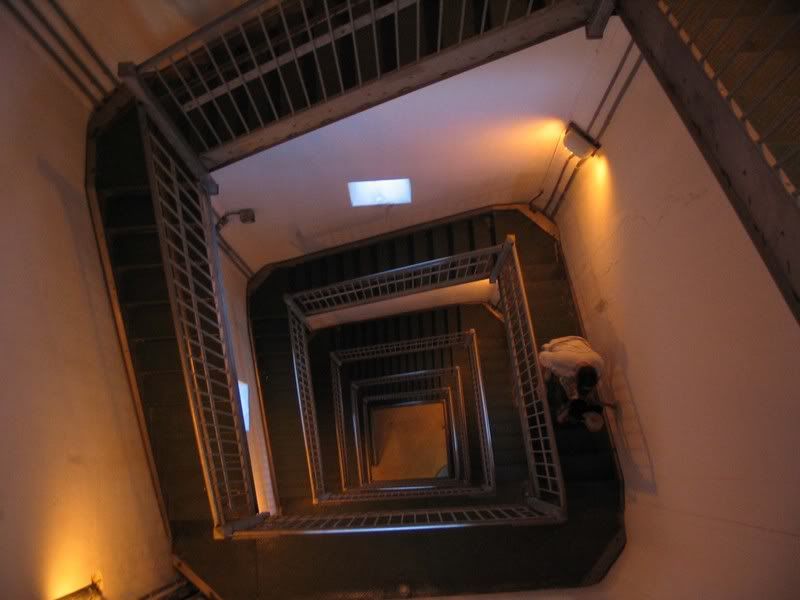 Happy to have made it to the top, where it was hot as hell: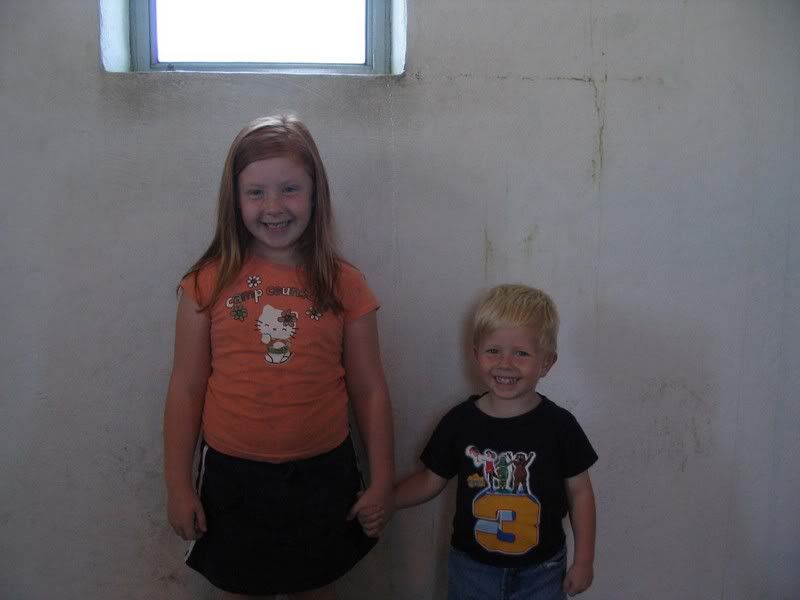 The park was decorated with all these pretty red signs. They really made the place look festive!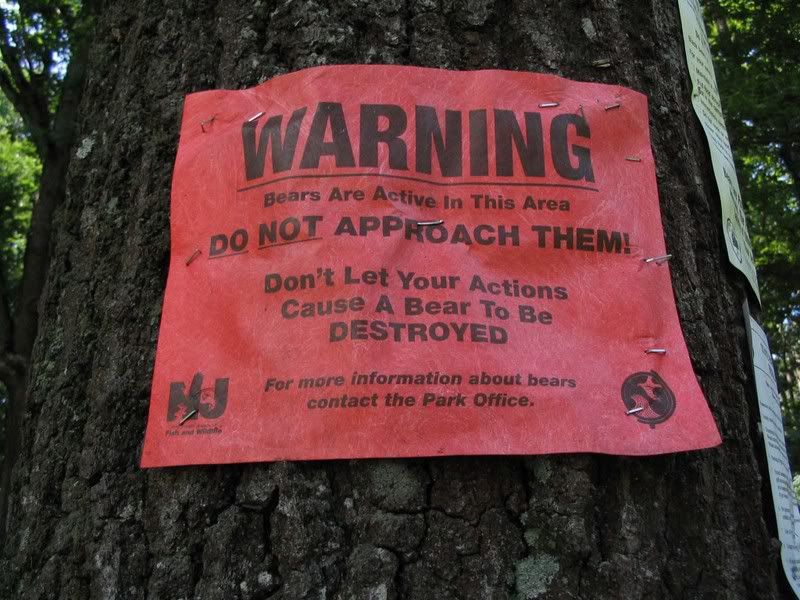 After the visit to the park, we stopped for lunch at a nearby restaurant we alway pass in the area. We were nicely surpised. Small menu but they prepare as much food as they can on the premises, including their bread.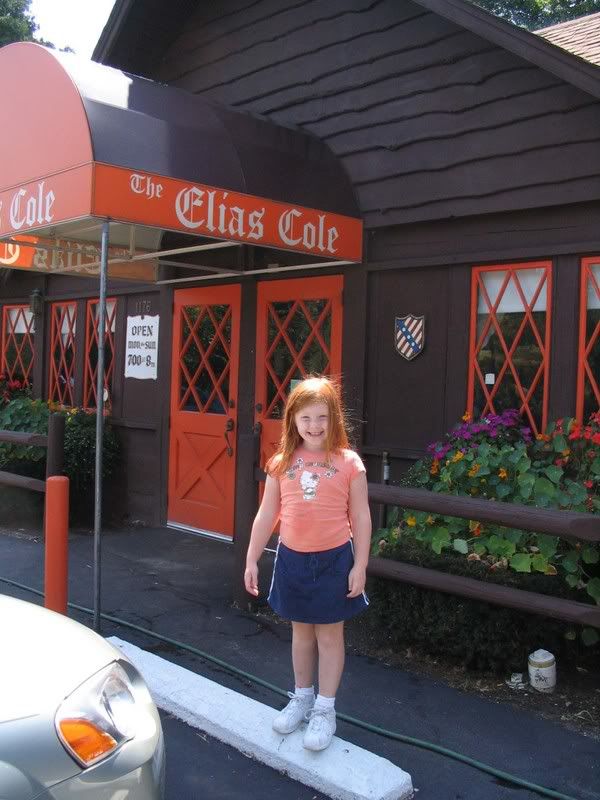 We headed back and spent the rest of the day at the pool, and then had one more round of s'mores by the campfire and once the kiddos went to bed, we opened a bottle of wine and talked till the fire went out.

Back to work, camp and our lives now....