At the Paupack Blueberry Farm:
It is apparent that my children do not have a future as hired farm hands. Twenty minutes into blueberry picking yesterday morning proved that to me. The presence of bees and working in the sun was just too much to bear for their delicate city-bred personalities. They were much happier eating ice cream in the air conditioned gift shop on the grounds of the blueberry farm then picking the actual berries. Go figure.
This picture does not do their complaining justice. Trust me, there was a lot of whining.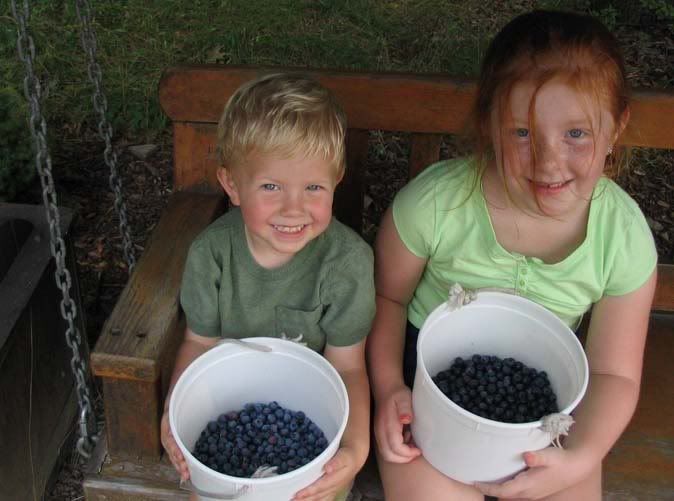 I had a good time, though. And since neither of my kids like blueberries (what is wrong with them anyway?) I have a whole pound of berries to myself. They are fresh off the bush, grown with minimal pesticides because the farm uses more natural methods, including keeping bird and bat houses on the land to control insects.
Pollination of the berries used to be done by the bees kept in an apiary on the grounds. I bought some raw honey and asked about the birds and the bees (oh, get your mind out of the gutter) and found out their bees have been wiped out by a parasite. You may have read about the decimation of the honeybees, recently? (NY Times article here.) Well, most bees in Pennsylvania have been victims and a lot of the farms in the area haven't had any berries this year. So I guess the fact that I got any berries is a minor miracle.
After making my kids pretend they were migrant workers for a morning, we drove home and ate lunch, then headed out to the pool where the kids swam and swam and told me a more times than I can count "Mom! Watch this!" We stayed until dinnertime, which coincided with a thunder clap, making dragging the kids out the pool that much easier.
Once we got back to the house, we found we couldn't get in the driveway. A dozen wild turkeys were feeding at the gate and could care less that we needed to get by. Eventually they went to terrorize someone else and we were able to enjoy a round of s'mores by the campfire.