AKA "I'm NOT Eating That" by the under 10 set in our house.
Here's what you need:
1 corned beef brisket, 3 - 5 lbs
3-4 medium carrots, scrubbed and cut into chunks
6-7 small red bliss potatoes, scrubbed and quartered
1 onion, quartered
1 small head cabbage
2-3 bottles dark ale (we use McSorley's)
Place your corned beef in a pot bigger than you think you need. Include the juices from the packaging, it's full of flavor.
Add 2-3 bottles ale and the flavor packet from the corned beef if it came with one. Add the pickling spices, peppercorns and bay leaves. Then add enough water to cover the meat by at least an inch. Let it simmer, like all day. At least 4-6 hours. At least. Drink the rest of the beer while you're waiting.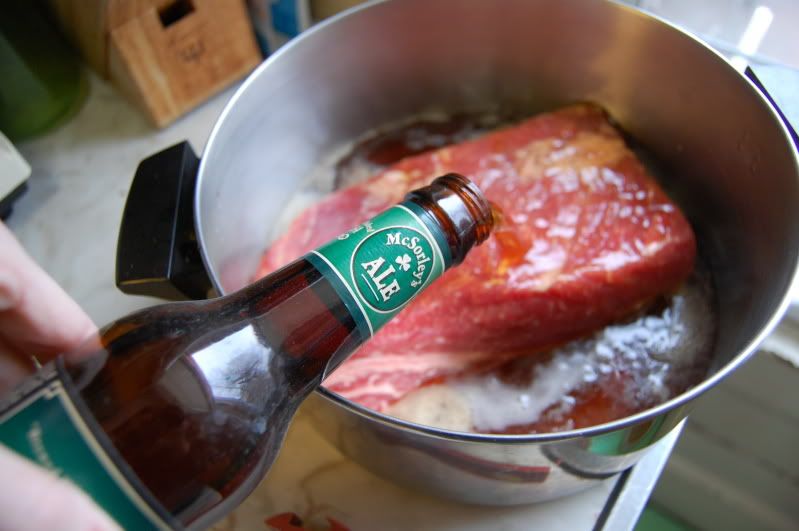 Here's what it will look like after the 4-6 hours.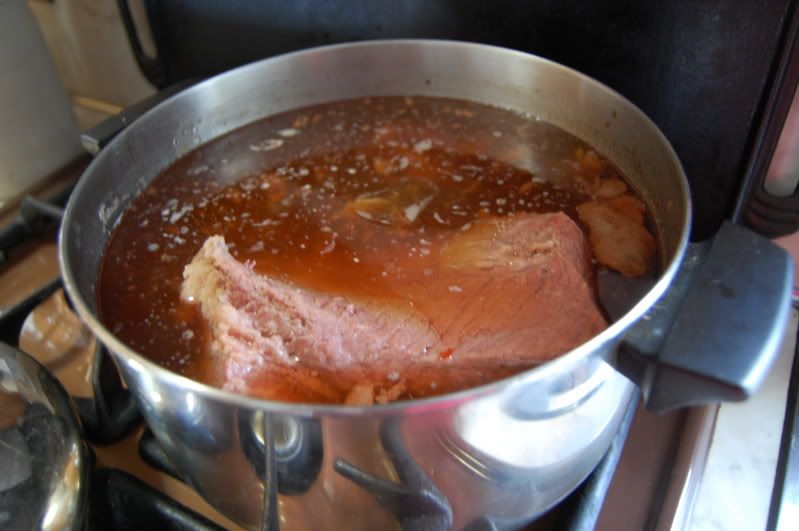 About 30 - 45 minutes before you think you'd like to eat, add the potatoes.
15 minutes later add the the carrots and the onion.
When the vegetables are tender, remove the meat and vegetables from the pot to rest on a platter.
Add the cabbage to the pot and simmer until tender.

Put the meat on a carving board and load up the platter with the cooked cabbage.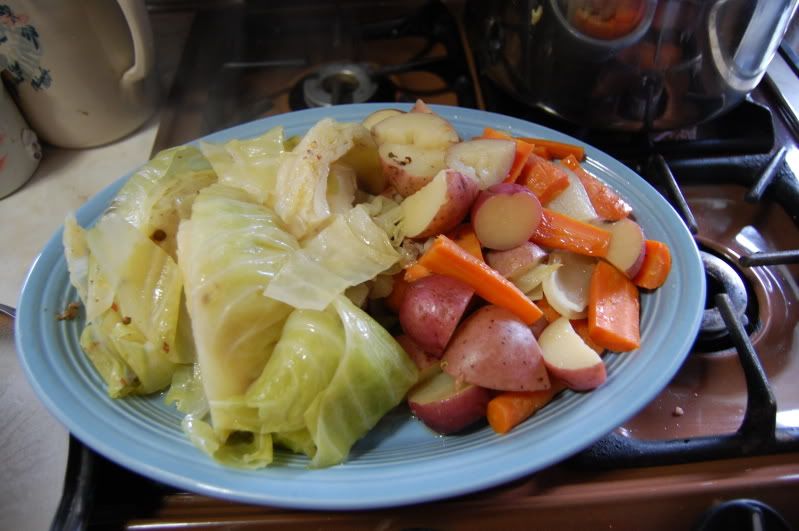 Slice the corned beef thinly against the grain and add to the platter.
Serve with rye bread, grainy mustard, more beer and soda bread.
I had fully planned to show you a table set with the platter and the soda bread and nice glasses of ale but then things went awry and someone had a meltdown. Timeouts were issued. Dinner got cold and the ale went flat. Things don't always go according to plan. When they do, it's the luck of the Irish. When they don't, I guess it's called life. Oh well!