I feel like a broken record. Monday posts usually start with "Oy, we're tired because we had So. Much. Fun."
This Monday is no different. We are recovering from fun. And you know what? Good! We are having a hell of a summer. And I hope you are, too.
Sophie recently joined the swim team and so we watched her swim in her first meet. She swam two races on Saturday morning, one 25 meter freestyle and one 75m freestyle relay. I didn't know how early you have to rise for these swim meets. It's pretty darn early and there are NO poolside coffee urns! And no one warns you about this when you sign up. It's all "Sign up! Yay! You're one the team! P.S. See you at 6:45 am on Saturday!"And that's why I met up with Sophie and John at a more reasonable post-coffee hour. (I won't be so lucky this coming Saturday; it's a home meet.)
We spent some time frolicking in the pool with the kids on Saturday afternoon. I was swimming over to Harry and said "Come here, my baby." And then he told me the awful news: "I'm NOT a baby anymore! I'm a MAN!" When I asked how he knew he was already a man he said "I shave now. When you made me get this haircut, they shaved my hair off! See?" he said, pointing to his head. "Man!"
The rest of the weekend was a blur of time spent with family, sipping cocktails, and seeing friends we haven't seen in ages. Also, I nibbled baby toes. We attended a christening party for one Very Adorable Baby and when no one was looking I took his socks off and kissed his tiny feet. When you are in the company of friends who've known you your whole life you can do this without shame. You can tell them about the toes on your own kids, and how baby toes are just irresistible and they don't judge you.
At least I hope they don't.
There was also gardening. This is my free perennial garden. With the exception of two plants, I transplanted every single plant from my garden in Brooklyn or carried it out of the garden of our friends that moved across the country.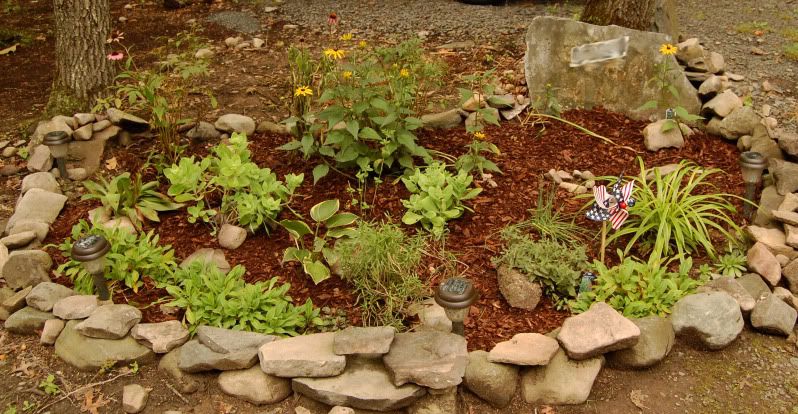 There are two sedums, himalayan border jewel, one hosta, a small gathering of lily of the valley, black eyed susans, astilbe, liriope, candy tuft, mint, chives, bugle weed, hens-and-chicks and purple cone flowers. So far, everything's been ignored by the deer but now I have another problem: slugs. They're eating my cone flowers. This weekend I will be crushing egg shells and putting out beer to try to deter them.
Gardening is supposed to be relaxing, which is funny because you are constantly fighting one battle or another!