A few weeks ago ecostore USA approached me and asked me to do a product review. Me. The woman with an small arsenal of cleaning products under her kitchen sink that emit enough fumes to let the entire neighborhood when she's finally gotten around to cleaning the bathroom. In my defense, I prefer vacuuming but whatevs. They want me to clean? I'll clean.
(Dear Dyson: send me a vacuum and I will totally review it for you! Just ask!)
ecostore USA is an extension of New Zealand's ecostore, makers of biodegradable plant and mineral based cleaning products. They asked me to choose two products from their line up. I chose the Baby Body Wash and the Cream Cleanser because I thought cleaning two kids and one kitchen would be enough to give me something to work with when writing the review.
While waiting for the package to arrive, I poked around on their website and was surprised to see what ecostore DOES NOT use in their products: no phosphates, no parabens, no synthetic enzymes, no synthetic perfumes or dyes, no toxic petrochemicals, no SLS. I knew a little bit about phosphates and how some companies are removing them from products like detergent but some of the other stuff? I had no idea they should be avoided. Like parabens? They're in nearly EVERYTHING (well, nearly everything I own) and studies suggest they may play a role in cancer. ecostore also explains why they don't use these ingredients. You can read the whole list here. Also available on their site is an ingredient list for every product sold so you know exactly what you're buying.
The company is not new. It was formed over 15 years ago when the founders--The Rands--were living in a communal eco village where each member was responsible for their own waste water. The Rands quickly learned that a better alternative to the available cleaning products was needed if they wanted to keep their waterways clean.
Necessity meet invention.
When the package arrived I found the bottles were packed in peanuts. Ack! Didn't using packing peanuts offset any eco-friendliness of the products? But inside the box, nestled among the two bottles was a letter that said "All packaging products used for this shipment are environmentally friendly, the packing peanuts are made out of soy, the news print, packing tap and even the boxes are all made out of recyclabe paper, as well as the paper this note is printed on."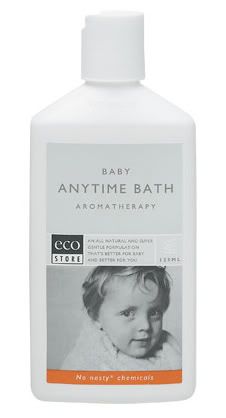 Once I had negotiated with the kids whether they opt for a shower or a bath, tossed a coin to see who would go first (and dispensed with any of that "But I went first last night!" business), doled out the ice cream I'd forgotten I promised and got them to clean up their toys, it was finally time to wash them up. Sophie was ambivalent. She didn't care what she used as long as she could wash up and get back to reading American Girl books.
When it was Harry's turn, he didn't care either but I thought it was a good product. It cleaned a day's worth of grime off him, smelled good and rinsed cleanly. It's mild, and their skin doesn't seem as dry as it sometimes does.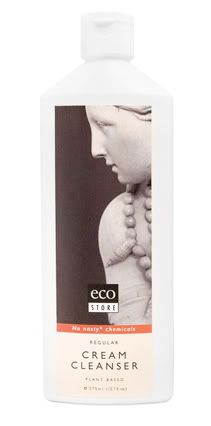 The Cream Cleanser got a workout cleaning our kitchen sink, which is host to Domestic Olympic Events like dish soaking, chicken rinsing, hamster cage cleaning and water fountain for one very naughty cat. So our kitchen sink gets cleaned. A lot.
It cleaned the sink well. A little cleanser on a soft sponge with some water got rid of all the gunk. It was shiny, the way I like it, and there were no fumes or any grit left behind. It also worked great on the cook top and the counters.
ecostore USA is sponsoring a give away for This Charming Life readers. The winner will choose any two products from their site.
Details: Giveaway ends Monday, July 20th at 10pm (EST). One entry per person. Continental US residents only.